Storichain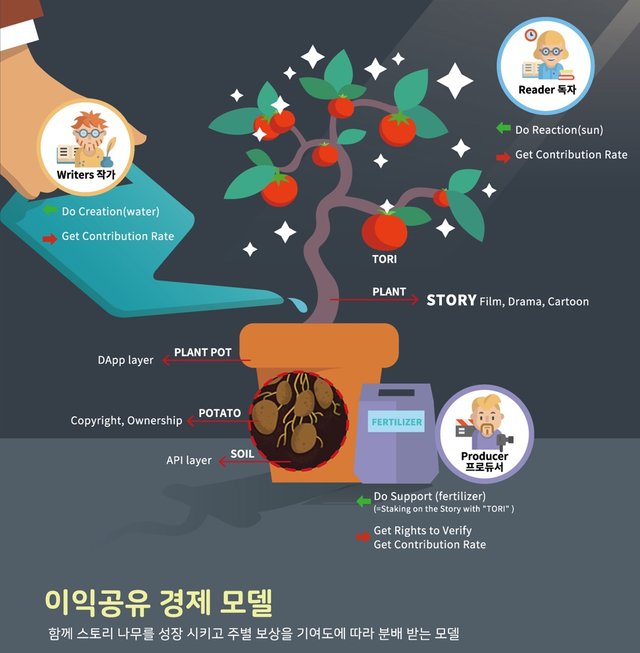 What is the story industry?
This means a narrative-based media industry such as films, dramas and webtoons. The role of distributors in the current story industry is positive because they are dedicated to end users in their efforts to provide optimal benefits for their secondary work. But how much do screenwriters benefit from 10 million films? How many generic readers benefit from reading and responding to the original novel? When an original article is sold under the second copyright, how often is "excess income" shared with the original author?
I think the problem is distributing excess profits yesterday and today, but tomorrow will not happen again. Now it is necessary to distribute and distribute fairly to the author who created the story of the origin of the media additive industry. Going forward, it will reach 130 trillion won. On the other hand, reliable quantitative data collection is very difficult and can be used as a basis for distribution. Distributed Ledger Technology (DLT) allows you to measure "creative contribution data" more accurately. The time has come to offer gifts. And if you can change the IP of your story (intellectual property) into an asset, collect money from IP stories, and track key contribution data from creation, then it will be a truly new lifestyle in two creative fields. .
Storichain is a project that provides partially decentralized dApp applications and general protocols to solve story industry problems using blockchain characteristics. The "story industry" refers to industries that use "stories" as the source of their products and cover fields such as film, drama, web novels, web drama, drama, musicals and radio shows.
Storichain can be seen as a digital historical asset management system that allows people to make online transactions even with people who cannot be relied on by entering into "agreements to prevent theft of ideas". Another problem in the industry is profit sharing. For example, the webtoon industry, which is one of the largest plot-based industries in Korea, has exceeded $ 700 million in market size, but there are still many who doubt the profit sharing structure in the industry, as well as in many materials. Content creators still have difficulty getting enough compensation for their work.
Storichain feature
Optimized
optimized for creators of
Co-work / Co-write / Contracts between authors, weekly Compensation and APIs for third-party content provider companies
Easy to use
Anytime, anywhere you want to tell a story.
Easy and fast writing platform.
Matching pair
Author Match / Collaboration / Job Statistics Agreement / Update Notification / Complete Commission Create
Participate in
Platform for readers to participate in work, become their own writers, make stories, and participate in them
Transparent
Platform that rewards participants fairly and transparently based on their contributions.
Platform Global
Global platforms that can be translated, marketed, or even copyrighted for global expansion
Roadmap
2017 Q3
– IDEA concept
2017 Q4
– Team Formation & Advisory Contacts
2018 Q1
– Create a business model
– Storyboard edition 1
– First Business and Ecosystem Development Project
– MVP design
– Web publishing
2018 Q2
– making a prototype
– Conceptual Demo Video
– Architect Contributions
– 1-й Core Smart Contract Architect
– Sales of tokens
2018 Q3
– Invitation to Seed Makers
– MVP Closed Open
Fourth quarter of 2018
– POC – Eco Creator Experiment
– Web application (centralized)
2019 Q1
– Alpha Service Launch
(Using Luniverse)
– 2-й Core Smart Contract Architect
– Partnership with entertainment
2019 Q3
– Stori Contract, GI Contract
– Make a contract
2019 Q4
– Beta (Embossing / Distribution) Service
– Original content
2020 Q1
– Story Contract Launch Kit
– Template kit starter
2020 Q1
– Launches Crypto Actor Kit
2020 Q3
– Simple document set
Meet the team, great people
Junes Lee> Founder and CEO
Yunchun Cheung> CCO (Diriektor Filmov)
Jin Yang Choi> Technical Director
Sang Wook Kim> CSO (Developer)
Sang Hoon Khan> Lawyer (Copyright, Media and IP)
Mickey Choi> CBO (business organizer)
James Lee> Chief Engineer (Co-Founder)
Tae Seok Yang> Buhgalter
Effy Song> Director of Communication
Chan Gyo Kim> SF science fiction writer
Kcod Kyung> Developer
Hong Yeop Choi> Developer
Bohun Jeong> Business Strategy
Sung June Park> Content Strategy Producer
advisor
Yang Ho Lee> Director
Dr.
Myung Son Lee> Consultant
Sung Jun Park> Doctor of Cryptology, Head of the Blockchain Research Center at Dunguk University
Jong Yoon Ro> Film Producer
Hee Won Jung> AnySign General Manager
Dong Sam Beiyun> Blokkein Expert
Shaquille Mohammed> Blockchain ExpertsProject contact information:Website: https://storichain.io/Whitepaper: https://drive.google.com/drive/folders/1s902dyb4msuSu4dcg-9tlqE8vVcxC2KbBounty BTT: https://bitcointalk.org/index.php?topic=5158251.0Twitter: https://twitter.com/storichainFacebook: https://www.facebook.com/storichainMedium: https://medium.com/storichainby ; LordUdin
link: https://bitcointalk.org/index.php?action=profile;u=2579436
Ethereum address: 0xA46f84799AE03bfe807145631fA818507D2d5664