INMINING
INNOVATIVE MINING COMPANY IN BITCOIN
This project will create value distributed among the token holders thanks to an innovative lottery model that will allocate part of the mining profits among users. Another part of the profits will be reinvested in new mining equipment to compensate for the possible decrease in the level of profit margins in the future. But another part of the profits will be allocated to buy back INMG tokens on the open market and then burn them to maintain the long-term stability of the tokens.
INMINING will allow all interested users to participate in industrial-scale Bitcoin mining without having to buy expensive equipment or join a mining group. The project will be centered around Russia's largest data center, which will be built in the Alabuga Special Economic Zone. As a resident of SEZ, INMINING will enjoy significant benefits, which will provide a serious competitive advantage and maximize the benefits of its mining.
Although the growth of the Bitcoin market has returned in Q2 2019 after a long decline, the mining company Bitcoin still faces several challenges. Rising energy prices, lack of technical competence, low profit margins, high taxes, increased pressure from the authorities, lack of locations with the necessary infrastructure – these problems all cause many mining companies to fail and close.
INMINING will solve all the problems listed above thanks to its unique location and chosen technological solution. Very low electricity prices in the Alabuga SEZ (only $ 0.025 per kWh), together with sufficient tax and customs benefits, will enable the project to maximize its profits.
At the same time, BitFury's container mining solutions will ensure maximum capacity and mining efficiency on an industrial scale.
Bitcoin Mining:
The dynamics and trends of 2019 mark the 10th anniversary of Bitcoin. Over a decade, the price grew by a factor of 2 million. Market capitalization increased 20 times compared to 2013. Bitcoin is traded on more than 400 exchanges, along with 1500 altcoin and tokens.
Mining Operations
The INMINING data center will use hardware such as BlockBox AC from Bitfury. This will allow easy scaling with a minimum step of 1.2 MW, minimization of capital investment, and quick launch and regulation.
Top-level productivity
The BlockBox AC cellular data center consists of 176 air-cooled servers with a total hashrate of 14 PH / s.
Innovation & scalability
BlockBox AC is one of the most powerful yet inexpensive solutions available in the global Bitcoin mining market.
Mobility
AC BlockBox data center is a comprehensive and packaging solution that can be positioned in any geographic location.
Reliability
24-hour monitoring and technical support provided for BlockBox AC guarantees maximum productivity and fast problem resolution.
Remote performance monitoring
BlockBox AC owners can remotely monitor hardware using a browser interface or a mobile application.
Next generation technology
BlockBox AC data centers can be easily upgraded by replacing only the necessary components.
Current challenges in the mining industry
Although the hashrate network is growing, many mining projects have finally closed. The main reasons behind failure are low profitability and actions by authorities.
The following challenges can be identified:
Expensive electricity.
Low or negative profitability.
Tax.
Legal restrictions that apply to crypto mining.
Infrastructure Requirements.
INMINING uses an innovative approach that will solve all the problems outlined above. The data center will be built in the Alabuga Special Economic Zone in southern Russia.
Finding the location of a Bitcoin farm in the SEZ will ensure maximum profit not only for project organizers but also for all token holders:
Cheap electricity.
Tax benefits.
Customs benefits.
Infrastructure.
Security.
INMINING has the following advantages over competitors of this type:
INMINING a business model
The main feature of the INMINING business model is the innovative profit distribution mechanism. All Bitcoin mined and revenue from sales will be allocated as follows:
Electricity costs and other overhead costs
Reinvestment in new mining hardware – 50% of profits
Purchase INMG by further burning – 15% of profit
Lottery among token holders – 35% of profit.
Every month, INMINING will buy back a small portion of INMG on the crypto exchange and burn it.
This procedure will have several positive effects:
Maintaining long-term token stability
Increase liquidity and trading volume
Motivate INMG holders to maintain their tokens, which will add stability.
Initial token offer – the main facts
Ticker: INMG
Standard: ERC20
Decimal: 18
Total emissions: 150,000,000 INMG
Minimum purchase amount: $ 100
Payment method when buying on the exchange: BTC
Token Allocation:
75% –
Token sales team – 15% of all tokens sold but no more than 15% of total emissions
Prize campaign – 8% of all tokens sold but not more than 5% of total emissions
Budget allocation:
85% – Mining, installation and installation of hardware, land rent, infrastructure
13% – Overhead, including marketing
2% – Other costs (including legal fees)
Roadmap
Q1 2019
Start preparations for data center construction; team formation; negotiations with representatives of the Alabuga Special Economic Zone.
Q2 2019
Mine choice of hardware manufacturer, formation of marketing partnerships, work on white papers and tokenomics, white papers audited.
Q3 2019
The marketing campaign, the launch of the prize campaign, starts from a closed presale.
Q4 2019
Main public round, token distribution, register at the first crypto exchange, start construction of data centers, purchase of mining hardware, team expansion.
Q1 2020
Payment and delivery of AC BlockBox, installation and setup, data center launch, work on interfaces for lottery and polling.
Q2 2020
First income, register on five other crypto exchanges, lottery testing and selection procedures.
Q3 2020
Lottery and first poll.
Q4 2020
First buyback-and-burn round.
Q1 2021
Buy and launch another mining module.
Inmining Team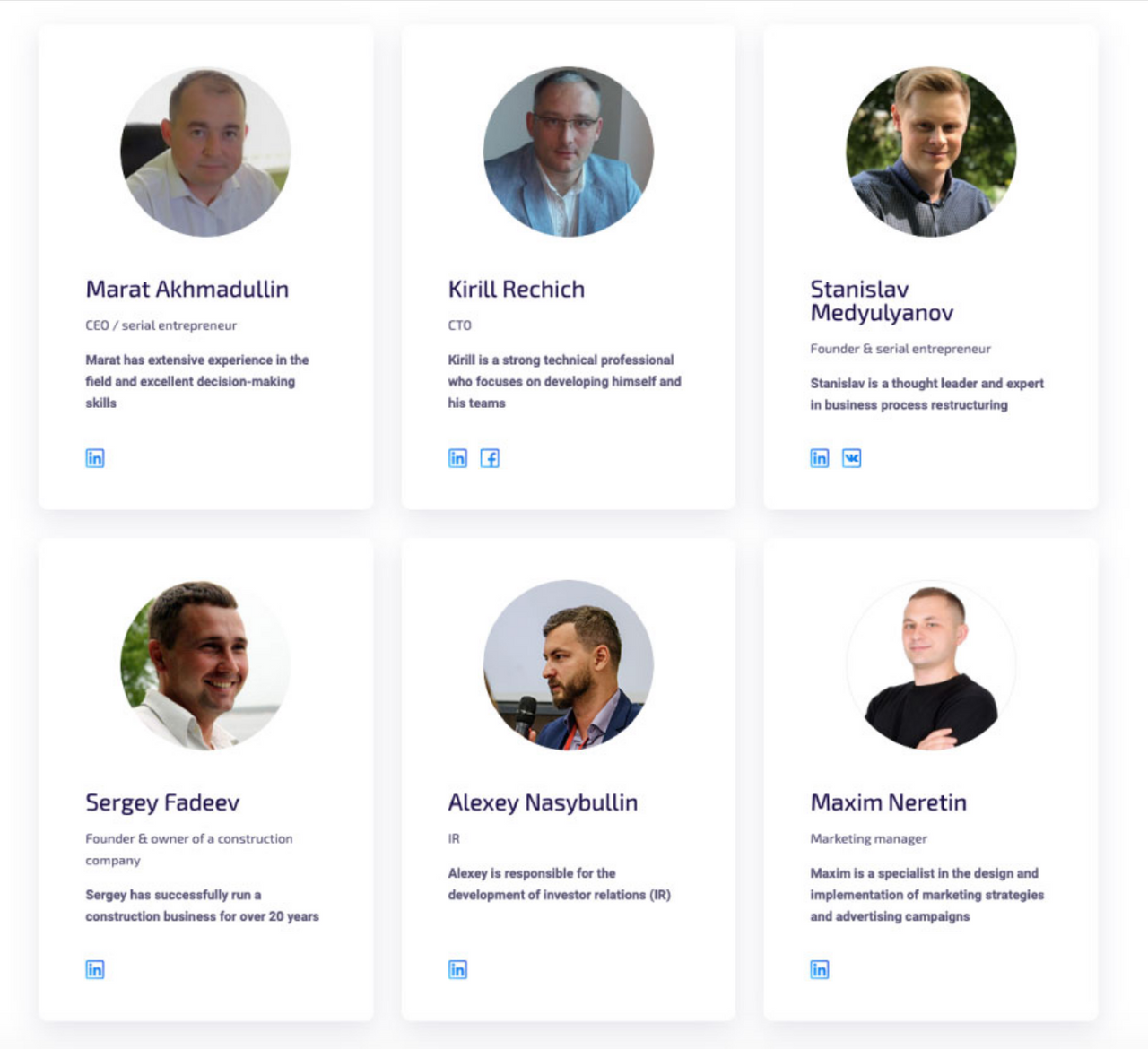 Conclusion
The aim of the current official report is to present INMINING – an innovative industrial-scale Bitcoin mining project – to potential buyers who wish to enter the INMINING community in connection with the proposed token offer. The information contained in the white paper has the sole purpose of providing prospective buyers with detailed and relevant information so that they can decide whether they should carry out further analysis of the project and perhaps obtain their tokens.
To get clearer and more accurate information.