Koinomo aims to revolutionize the way we earn passive income in Crypto
Description
The cryptocurrency industry is still in its infancy, therefore it currently offers a great opportunity to invest before mainstream adoption occurs, increasing the chances of high returns at a later date. One of the main ways to increase the value of your Bitcoin holdings is through trading, which takes time, patience and a lot of experience. Trading is not an easy task, especially in crypto. One needs to collect a lot of small pieces of information and analyze it in order to be successful. Trading requires searching, roaming, reviews, cross-checking, and so on. The Koinomo Fund was developed to address this problem.
What is the Koinomo Fund?
Koinomo is a platform for the future of fund management using smart contracts based on blockchain technology. Koinomo aims to have the most effective and efficient Funds so that users have the best experience in one place. Koinomo is a Decentralized Asset Management & Investment Fund Built on the Binance Smart Chain.
Koinomo Fund Mission
Koinomo is focused on revolutionizing the way we earn passive income in Crypto with the creation of the world's most technologically advanced blockchain Fund. Koinomo's network and experience delivers unrivaled services to keep you and your finances ahead of the financial industry and thus the world.
Just invest your Bitcoin holdings into the Koinomo fund and they will professionally invest and trade your capital between different assets. The fund is continuously managed and new coins are constantly being researched to give investors the best return on investment.
Koinomo Fund Features
Decentralized Bitcoin Wallet: To create an account with Koinomo, you just need to create your own bitcoin wallet using 12 random seed keys that link your account to your computer and are backed by 8 -21 key passwords.
Full Protective Security: Koinomo has taken several steps to ensure a safe ecosystem for investors' Funds by using Cold storage wallets to keep investors' Digital Assets in custody.
KOINOMO Monthly FUND Performance: At the end of every month, Koinomo is required to publish the fund index performance showing daily trading activity and profit/loss for each trading day.
One-click withdrawals: Investors are not tied to any time frame for their investment which means they can withdraw any time of the day from Koinomo FUND to their Koinomo wallet.
No Withdrawal Fees/ No hidden fees: Koinomo does not charge any withdrawal fees other than 8:2 profit share (BTC investors) and 9:1 profit share ($KMO investors).
24/7 Online Support: Koinomo will provide Live Chat around the clock on Telegram website & community for investors if any help is needed regarding their Investment with Koinomo.
How Does Koinomo Work?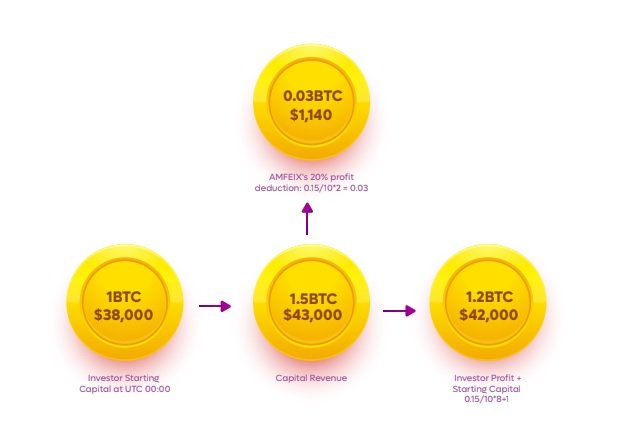 To become an investor in KOINOMO Fund, you must first visit KOINOMO.com. Once there you navigate to the signup button which is also known as "Start Investing".
After you deposit your funds into the Koinomo wallet. Koinomo manages investor funds through several positions, both long and short strategies.
54.5% of the portfolio is allocated for short-term strategies through the trading desk, where Koinomo will carry out regular trades in a number of BTC to fiat and BTC to crypto pairs.
Another 45.5% hold BTC reserves, a safe haven in a safe and secure cold wallet.
KOINOMO calculates all profits in USDT, which means that once your Bitcoins are invested, our goal is to increase the FIAT Value of your bitcoins even when the market is bearish.
If you deposit 1 BTC at the current price of $38,000, Koinomo's mandate is to increase that amount of FIAT and Bitcoin even in bearish markets or cycles through trading and investing. If the bitcoin price drops to $32,000, our fund generates an average of 15% at the end of the month which gives you a profit of $5,700 plus $38,000 equals $43,700.
Profit Distribution Process – All profits will be divided in a ratio of 2:8 where KOINOMO takes 20% and investors take 80%. Your account balance will be recalculated and updated every 24 hours.
Investments made in Koinomo's native token, namely KMO, will have more profit sharing, which is 9:1. Investors share 90% profit and 10% Shares by Koinomo.
When a loss occurs, the value of the loss will be distributed among investors in proportion to the level of their respective investment in the fund. The loss will then be updated in the account in the same way as the gain.
What is Koinomo Token (KMO)?
The KOINOMO token or "KMO" token is a free-floating asset based on the Binance Smart Chain (BSC), with its own monetary policy. KMO acts as the native currency of the Koinomo ecosystem.
The biggest advantage of KMO tokens is that if investors choose to invest in Koinomo funds through KMO tokens, they have a larger profit share of 9:1, which means 90% of the profits will go to investors if they choose to invest through KMO tokens. This will help grow the Koinomo ecosystem.
Tokonomics Token Name : Koinomo
Token Ticker : KMO
Association : Binance Smart Chain
Password size : 10,000,000 KMO
Benefit of ICO Tokens
After IDO bidding, tokens will be dropped and distributed to our holders which will be used as cash for our decentralized blockchain storage.
#Koinomo #kmo #BinanceSmartChain #BSCGem #BSC #investwithkoinomo
Website: https://koinomo.finance/
Facebook : https://www.facebook.com/Koinomo/
Instagram : https://www.instagram.com/koinomo
Telegram: https://t.me/koinomo
Twitter: https://twitter.com/koinomotoken
Linkedin : https://www.linkedin.com/company/koinomo/
Reddit : http://reddit.com/r/koinomo
Medium : https://medium.com/@koinomo
YouTube : https://www.youtube.com/channel/UCNEarsppiq4rj669RkaonNA
BTT Bounty Yarn : https://bitcointalk.org/index.php?topic=5355516.0
by ; LordUdin
link: https://bitcointalk.org/index.php?action=profile;u=2579436